the title? because I could. that's why.
these images below? again, because I could. and did.
(i typed in the word "boston" on google and these were some of the suggestions it had).
boston terriers

boston red socks
(which aaron thinks we should pay $500 for a ticket to one of the games.
To that suggestion, I just had to scoff. (yes, good word usage).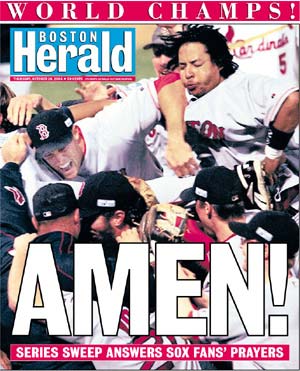 n.e.way, let's talk Boston, aka MY Disneyland, aka Beantown (just found out why it's called that. Ever heard of "boston baked beans"??---yeah, Aaron and I won't be partaking in that delicacy. We aren't
bean
fans or tomato or cucumber or squash or sour cream (unless mixed with other things) fans... that's why we got married. we are SO alike.
So, yes, we are traveling to Boston. Aaron said last night that I am acting like a 5 year old going to Disneyland. Yes, friends, I am THAT excited. Now, you would think, with all this excitement, I'd have EVERYthing planned out--where to go, what to see, what to eat, etc.--- however, I mustn't be a liar. Really, nothing but the car rental, hotel and flight is finalized. Sorry. My bad. But, in my defense, there have been many things to accomplish. So, the time is up. Our trip is upon us, and now I am in the midst of planning it all.
Oh, you want to know why we are going? Okay, this is a good story. I'll try to make it brief.
Aaron got accepted to Boston University. That was my ticket to Boston. I've ALWAYS wanted to live there, even for just a brief stint. I was thrilled. Well, he also got accepted to another school and yes, a few others... but in the end, we decided to go to Tejas. Things like "great school" and that thing called "money" played big roles in that decision. Aaron's theory was this, as he pitched the idea to me, "Because Texas is so much cheaper, we will use the money we saved and go to Boston EVERY year!" Well, I'm a sucker. I agreed. And here we are. Third year in dental school and FINALLY going. Remember how it didn't go exactly as Aaron pitched it? That's okay. All that matters is that we are really going now.
So, we've been saving up our pennies and that, coupled with the fact that one of Aaron's favorite pastimes is looking up cheap tickets (good talent, hon), we're truly going!
We've got a few things ready and are especially looking forward to wearing our LONG SLEEVED SHIRTS, SWEATERS, and JACKETS! Now, to those of you who live in Texas, let me introduce you to these articles of clothing... just kidding. But seriously, I have not touched my "sweater box" since we've moved.
So, we're going. Get excited. I am. Miss Kemy, (who most of you don't know, but she is a good friend of ours who lived in Boston before we met her, and therefore the expert on such matters) ---she has graciously emailed us a list of some ALL IMPORTANT and WONDERFUL things to do. So, basically, I have a good idea of what we will be doing, but in case any of you think there is something else we ABSOLUTELY have to do, we'll take your suggestions.
But, in case we don't have time for ALL of them, please, don't be haters. Only love.rs. (I had to separate that word with periods so you wouldn't get the wrong idea).
So, there you have it folks. We'll start taking suggestions starting..........
................
......................
wait for it.............
....................
..............
wait for it ..........
............
.......
............... now!